Coconut Grove is the oldest continuously-inhabited neighborhood in Miami. Encompassing the shoreline of Biscayne Bay, Coconut Grove is a charming, upscale neighborhood with various activities for residents and visitors to enjoy. Besides the market for Coconut Grove real estate, the most notable benefit Coconut Grove offers is its unique dining experiences.

Whether you're looking for an upscale restaurant, a quick bite to eat, or international cuisines, this neighborhood offers a wide selection of savory foods for you to enjoy. If you're looking for your next dining experience here, read on to explore nine restaurants in Coconut Grove you won't want to miss.
Ariete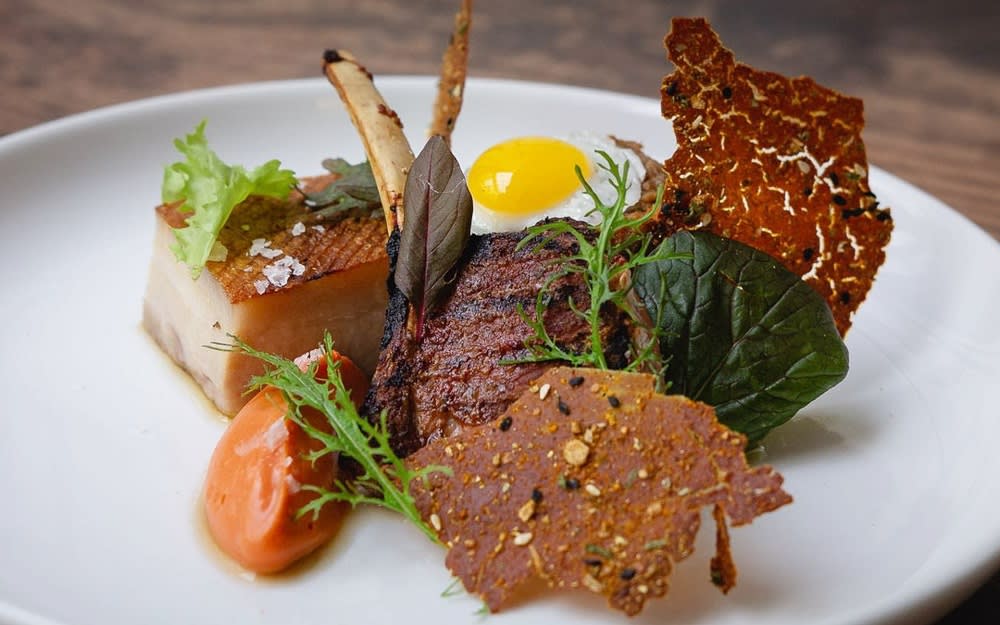 Photo courtesy of Ariete
Located in Coconut Grove,
Ariete
is a popular restaurant inspired by executive chef and owner Michael Beltran and a combination of his Miami roots, rich Cuban-American Heritage, and French culinary training.

Ariete is one of the best restaurants Miami has to offer; delivering various savory foods, from unique dishes to traditional flairs. Guests can enjoy a selection of delectable dishes, such as wood-grilled oysters for brunch or Osetra caviar for dinner. Ariete is dedicated to using locally sourced products with indigenous food pairings and professional cooking techniques.

What makes Ariete unique is that the restaurant's menu, while always spectacular, is ever-evolving. Ariete's menu is tailored to the change of the seasons and inspirations of the moment.

Ariete doesn't just provide savory dishes, though. Guests will also appreciate the restaurant's lively, warm, and family-friendly ambiance. If you're looking for a more intimate dining experience, guests can enjoy a pleasant, covered terrace that overlooks Coconut Grove.
Peacock Garden Resto Bar and Grill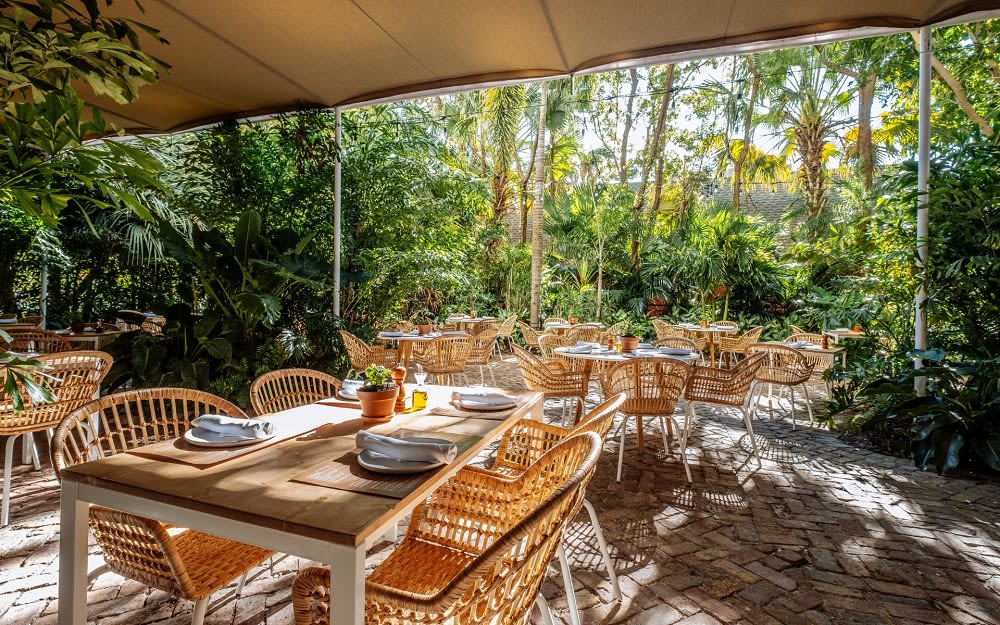 Photo courtesy of Peacock Garden Resto Bar and Grill
The
Peacock Garden Resto Bar and Grill
offers a unique dining experience that is both secluded and embraces the beautiful nature that characterizes the neighborhood. Just steps from Cocowalk, Peacock Garden has been a local hidden gem and a dining favorite for residents for the last 10 years.

This restaurant is unique because it has a "secret garden" setting, which provides guests with a delightful and private dining experience. Guests can appreciate indoor and outdoor dining, blooming plants, and flowers while enjoying their meal under tree canopy shades.

The environment isn't the only thing that has caught the attention of Coconut Grove residents; the menu selection is diverse and delectable. Here, you can enjoy a wide selection of foods from raw seafood, fresh fish, steaks, salads, pasta, and more.
Sapore di Mare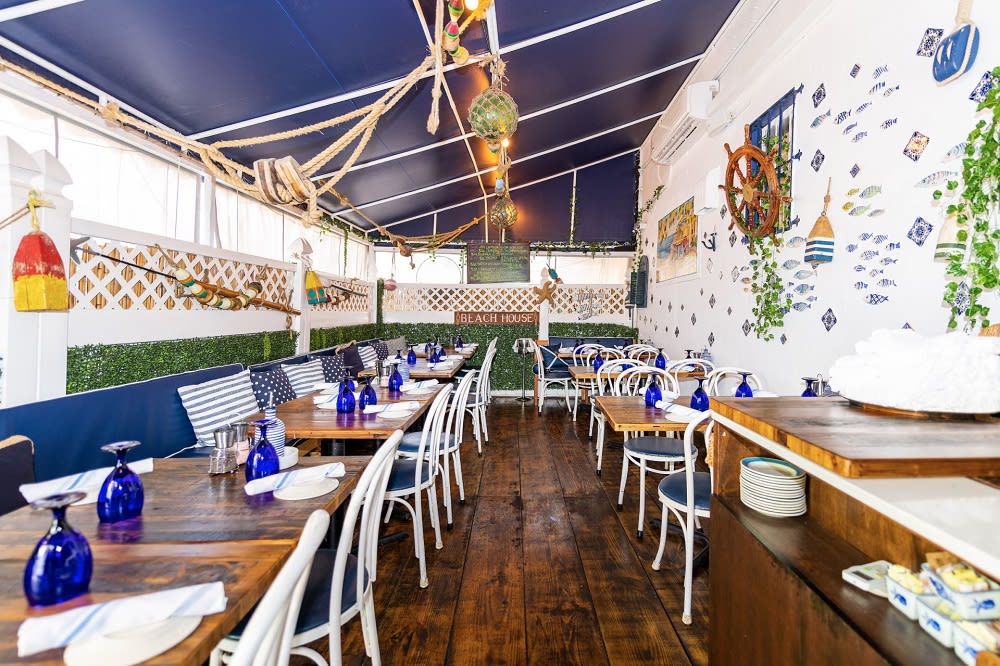 Photo courtesy of Sapore di Mare
If you're interested in Italian seafood,
Sapore di Mare
is certainly a place worth trying. Spouses Giorgia Calabrese, an interior and graphic designer, and Matteo Paderni, an ex-freestyle bartender, created this restaurant. Their vision was to make food selections based on simple and quality dishes of ancient Italian seafood recipes.

Sapore di Mare includes a distinct dining environment with just a few tables, seating, and furnishings resembling boats. The restaurant has become well-known for its superb cuisine, seamless service, and award-winning wine program.

This popular Italian restaurant has a great selection of Italian seafood cuisines to satisfy your tastebuds. Try one of their famous pastas, such as the Tagliolini Sapore di Mare, or their famous Cacio e Pepe. Or, get a taste of staple seafood menu items like the Tartare di Tonno or the Gamberi and Polipo al Pinzimonio.
Atchana's Homegrown Thai Restaurant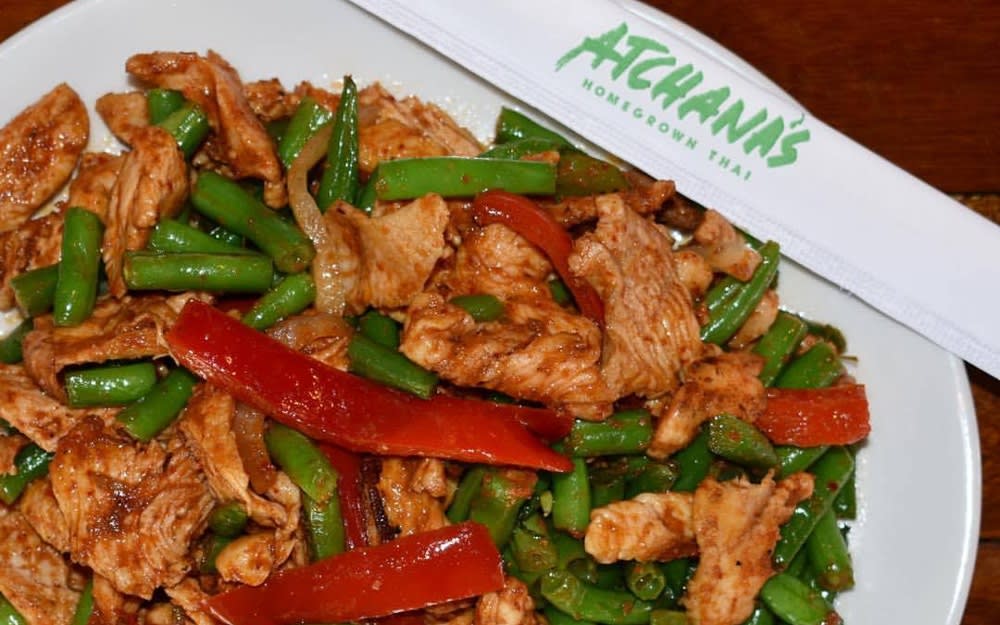 Photo courtesy of Atchana's Homegrown Thai Restaurant
Coconut Grove certainly has no shortage of international eateries. If you're interested in getting a taste of Thai food,
Atchana's Homegrown Thai Restaurant
is an excellent place to try.

This popular Thai restaurant is owned and operated by Atchana Capellini. Capellini's family relocated to the states in the 1970s, where she surrounded herself with food in the kitchen at her parent's Thai restaurant in South Florida. Capellini focuses on maintaining her family's traditions and providing homegrown Thai cuisine.

There are a variety of Thai cuisines that visitors can try. Get a taste of the restaurant's popular noodle bowls, such as the Thai beef noodle soup or the ramen bowl. Or, consider trying the staple Bangkok wings, green curry pork, or chicken yellow curry.
Monty's Coconut Grove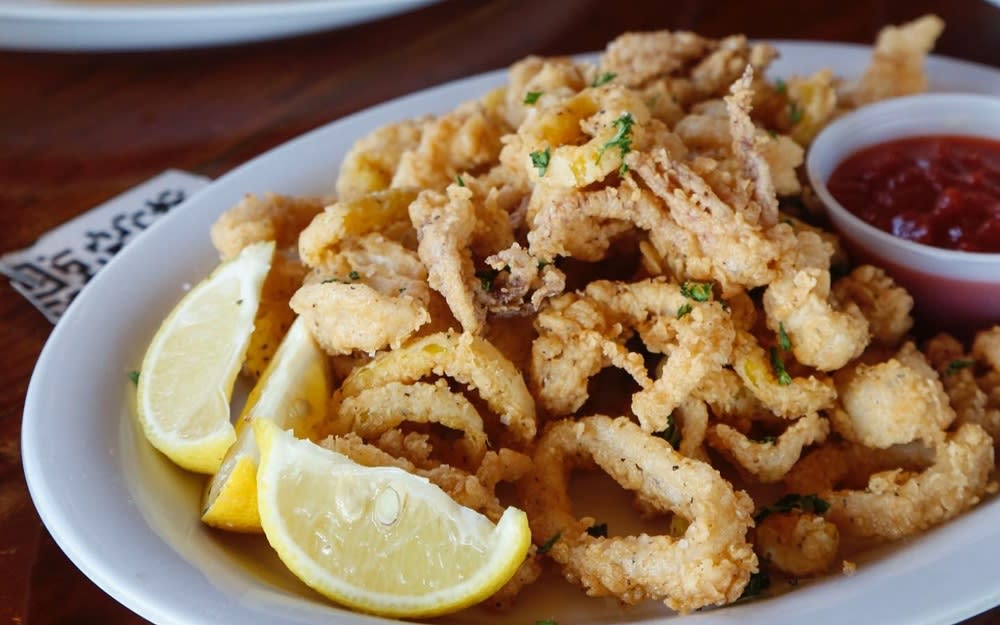 Photo courtesy of Monty's Coconut Grove
Another popular restaurant in Coconut Grove is
Monty's Coconut Grove
, a restaurant popular for its fresh seafood, island dishes, and great cocktails. Located on the bay, Monty's Coconut Grove opened in 1969 as Monty's Raw Bar and has become one of Miami's most well-known and respected restaurants.

This famous restaurant has served as a backdrop for various TV series, music videos, and movies like Miami Vice and Burn Notice. But Monty's Coconut Grove isn't just famous for being an iconic location; this restaurant is known for its simple yet delicious meals.

Enjoy one of their popular soups like clam chowder or indulge in a seafood appetizer like their house-smoked fish dip or conch fritters. If you're looking for a different taste, consider choosing something from their raw bar, like gulf oysters or shrimp ceviche. Monty's is located right on the water and within walking distance of Coconut Grove real estate.
Bombay Darbar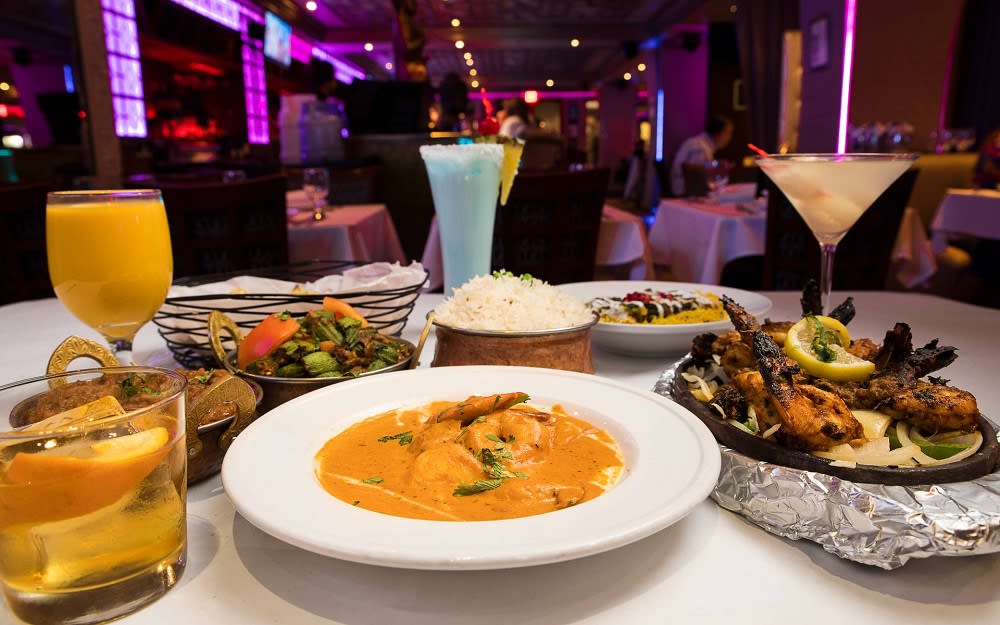 Photo courtesy of Bombay Darbar
Do you have an appetite for Indian cuisine?
Bombay Darbar
has been deemed the best of the best in all of South Florida. The founders of this unique restaurant represent a mix of cultural and culinary backgrounds, combining to bring food lovers a delicious and unforgettable dining experience. Their goal was to serve genuine and authentic Indian cuisine, which they have delivered.

Guests can enjoy a wide selection of savory Indiana foods like Paneer Pakora, Tandoori chicken wings, and chili chicken. Suppose you're interested in adding more vegetables to your plate; In that case, you can order from their exclusive vegetable entree menu and choose entrees like Saag Paneer, which features a traditional Indian cheese simmered in spinach, onions, tomatoes, ginger, garlic, and spices. Or indulge in the Chana Masala, which includes Garbanzo beans cooked in gravy, vegetables, and chef spices. Whatever route you choose to take, you will not be disappointed!

The food isn't the only remarkable aspect of Bombay Darbar. This restaurant has a great ambiance that promotes a relaxing dining experience. Most notably, the restaurant prides itself on having courteous, prompt, and quality service, which certainly adds to a positive and memorable dining experience.
The Key Club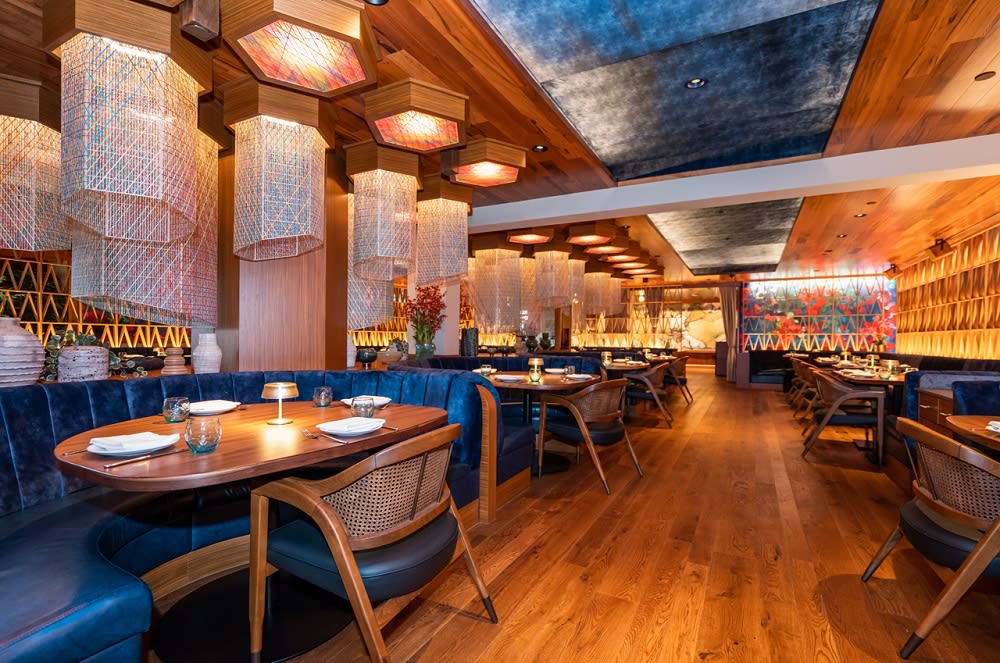 Photo courtesy of The Key Club
If you're interested in another unique restaurant, consider
The Key Club
in Coconut Grove, just across Biscayne Bay from Key Biscayne luxury homes. This trendy restaurant is known for its all-new take on a classic American bar and grill. The menu is centered around fresh-catch-fish and mouth-watering steaks. But guests will also enjoy a variety of other foods, including crisp salads, signature sushi rolls, and a wide selection of specialty cocktails.

In addition to its delicious and diverse food menu, guests will enjoy a sense of warmth and community as they enter the restaurant. The decor includes hints of mid-century modern Brazilian influences, which adds to its lively atmosphere that flows from their indoor dining room to their expansive bar area, all the way to their covered patio.
Jaguar Ceviche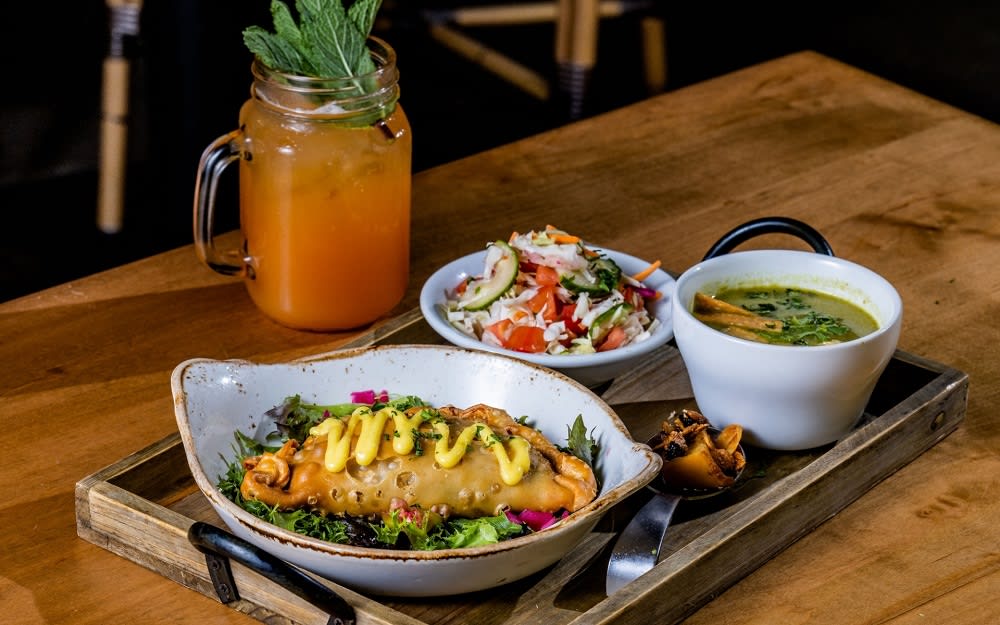 Photo courtesy of Jaguar Ceviche
One restaurant that is hard to forget is
Jaguar Ceviche
, inspired by the jaguar, the largest feline in the Americas and an animal respected and revered for thousands of years. Today, the jaguar is still a common focal point in many contemporary South American cultures. This keystone species is the inspiration behind Jaguar Ceviche's cuisine and restaurant.

At Jaguar Ceviche, guests will enjoy a diverse selection of foods and cocktails that are sure to satisfy their taste buds. Consider staple foods like Nuevo Shrimp Tiradito and Vuelve a La Vida from the Ceviche menu. If you're interested in trying one of their warm appetizers, consider the fried calamari, guacamole, or three cheese quesadilla. Jaguar Ceviche offers various other Latin American staples; whether you want to try something light like a soup or salad or you're craving something savory from the grill, Jaguar Ceviche will not disappoint!
Planta Queen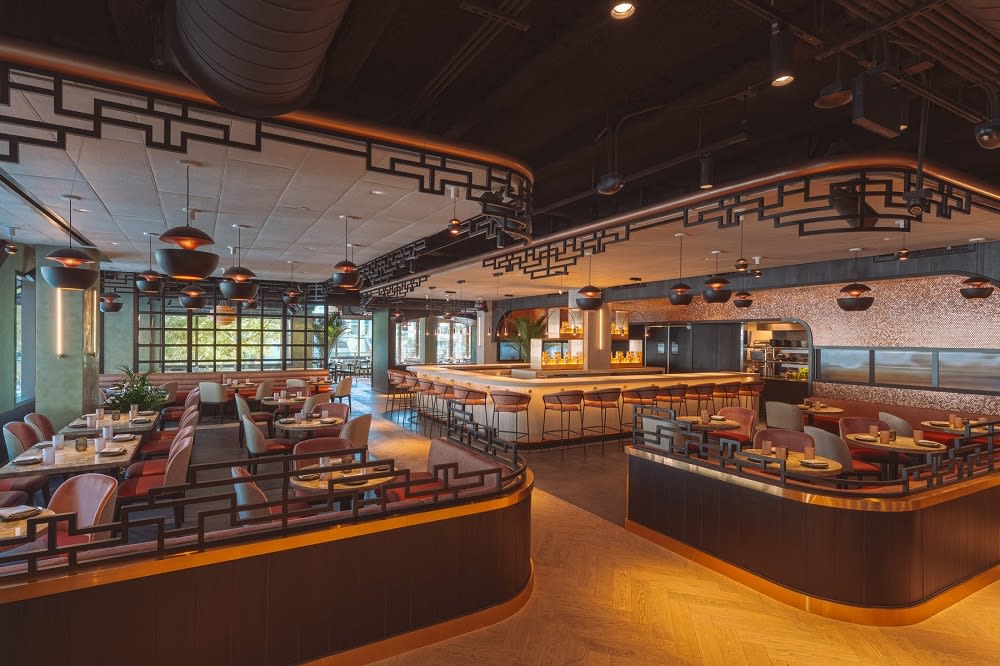 Photo courtesy of Planta Queen
Are you interested in indulging in a plant-based meal?
Planta Queen
is the perfect place to dine. Offering an authentic vegan experience, this restaurant in Coconut Grove impressively includes a diverse menu of delicious foods. This restaurant was inspired by the need to expand the accessibility of plant-based dining. As part of a collection of PLANTA restaurants, Planta Queen is committed to reimaging and revitalizing the way we eat plant-based meals.

If you're heading here for brunch, consider coconut sticky buns served with coconut syrup or their delicious French toast served with berries and coconut cream. If you want to try a dish from Planta Queen's all-day menu, try a variety of sushi dishes like the Unagi Eggplant Nigri. Their menu includes other dishes like jackfruit wings, Pad Thai Slaw, and a host of wok and noodle options.
Coconut Grove
is one of the most popular neighborhoods in the heart of Miami. This upscale neighborhood doesn't just provide a variety of things for residents and visitors to do; it includes a wide selection of unique dining experiences for you to enjoy. While only a handful of restaurants were mentioned, Coconut Grove offers a vast selection of delicious and diverse culinary experiences to choose from (with more options opening every day!). Giulietta Ulloa is a realtor focused on Key Biscayne. If you're interested in Key Biscayne luxury homes,
reach out today
for an exclusive listing of properties. We'll be glad to assist in your search.